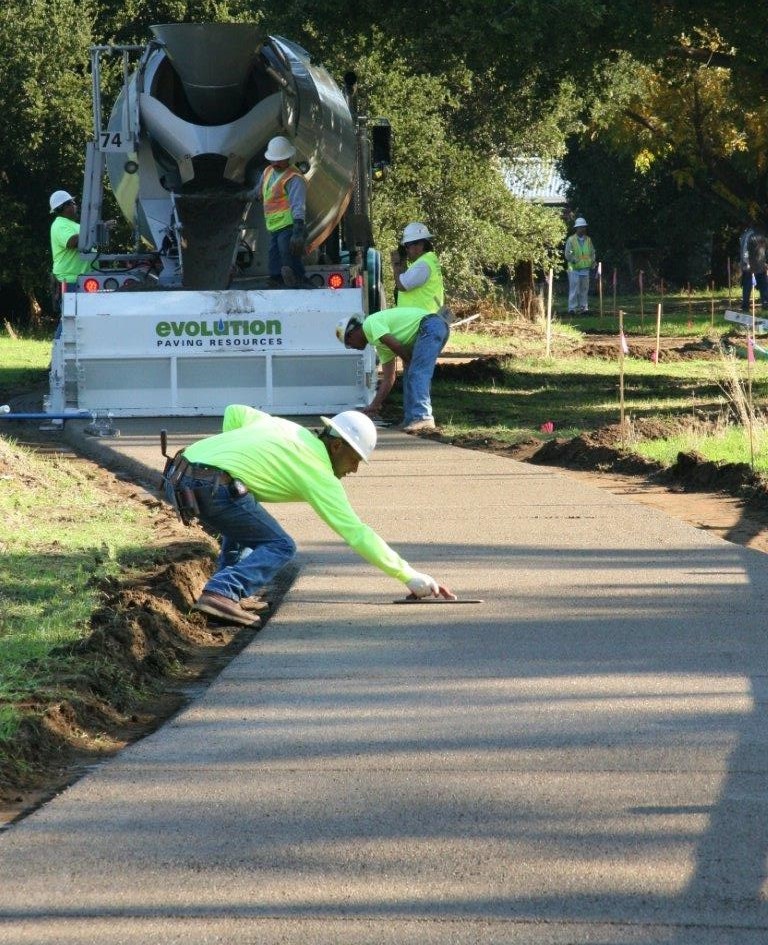 An Oregon dairyman needed a pavement to protect his valuable cows from injury on the way to and from the milking parlor. Asphalt was too slippery and would wash out in floods. A traditional stringline style slipform contractor bid the job with concrete, but the customer decided it was too expensive.
By using Evolution's inexpensive TRAILrider® paver, concrete contractor was able to lower the cost enough to change the customer's mind. The five man crew installed 2.6 miles of concrete trail, eleven feet wide and five inches deep at a rate of nearly 20,000 square feet per day. They completed the entire 158,000 square feet of roadway by paving to the existing grade. As the screed cast a slip reducing texture into the surface, there was no set up or removal of forms and very little surface finishing.For more information click here.
Paving concrete next to a curb is a royal pain, unless you use a Lura Screed with an adjustable Curb Runner.
You will not believe how it paves flush with the curb, saving you the time and headache of setting up and removing grade forms near the curb.
The Lightning Strike® has won multiple awards since its official launch in 2005. It has proven extremely effective on the most unique, cutting-edge projects all over the world. The Lightning Strike® and Curb Runner® give fantastic results on both standard and pervious concrete pours.
For more information click here.
Call us for a quote or to place an order.